SketchUp Interior Design Rendering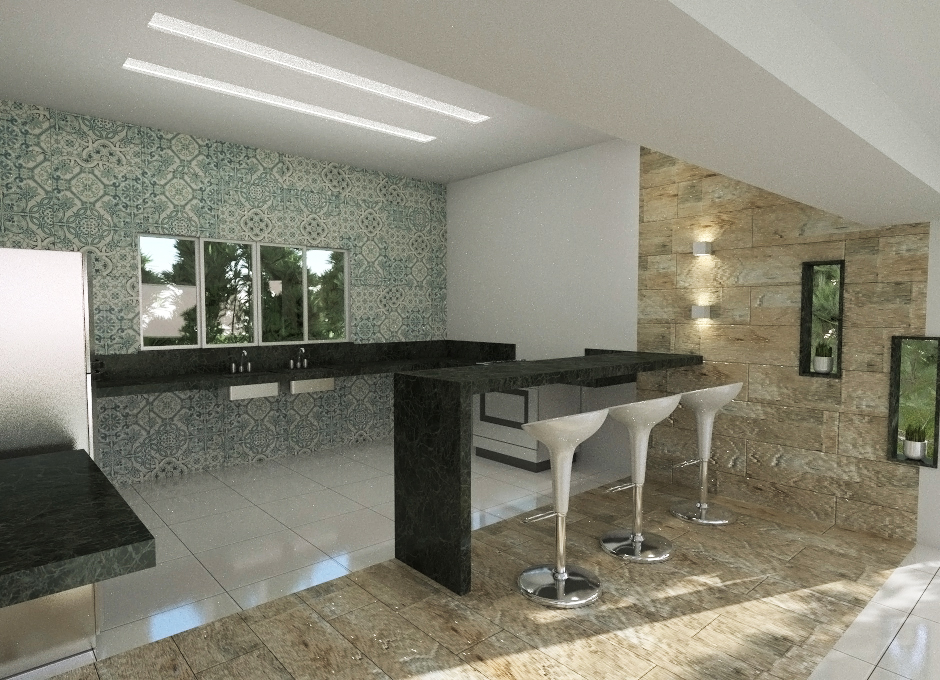 SketchUp is an excellent tool for creating 3D interior designs and office layouts for yourself or for your customers. It makes it quick to create initial room layouts and then adjust and evaluate multiple options of furniture layout, textures, lighting and colors.
Download SketchUp – https://www.sketchup.com/download
Now leverage IRender nXt to render in SketchUp and make your designs jump right off the page.   With IRender nXt you can quickly apply your customized materials and manage multiple groups of lighting with ease.   Now you have a photo-realistic presentation, so you can determine how lighting and textures will look on your finished product.
We also provide rendering solutions for AutoCAD.
SketchUp Interior Design Video Overview
This video has over 600k views and in 30 minutes creates a room, adds furniture, add color and textures, places electronics and furniture, adds lighting, and shows how easy it is to render in SketchUp to a realistic picture of the room using IRender nXt plugin.   Google used to own SketchUp and they sold it to Trimble Inc
Topics Covered

Creating a room in SketchUp
9:25 – How to quickly create and place windows
10:40 – How to simply add color and textures
13:00 – How to select and add furniture and then texture and color for your style
15:45 – If you can't find what you want he shows you how to quickly build a table with a beautiful glass top
20:25 – Adding in electronics, books and other room decor
21:40 – Adding flooring then coloring and sizing the tile
25:30 – Adding lighting.  IRender nXt makes this simple with pre-built drop-in lights with lighting included
31:00 – Setups the room for rendering to a realistic image
32:00 – Shows one of the best features of IRender nXt – You can adjust the brightness and lighting after the rendering is complete without having to re-render as in other rendering solutions
SketchUp Interior Design web sites
This is a great article and video presented by Josh Reilly from SketchUp.   The video was presented at  Clerkenwell Design Week an annual interior design festival.  This video provides a number of tips for beginners in SketchUp and how to get started using SketchUp.

It includes excellent SketchUp getting started information for Interior Designers

SketchUp 3D warehouse
How to apply and adjust materials and textures
Quick navigation tips to save you time moving through SketchUp
The SketchUp Extension Warehouse and how to find valuable extension to support SketchUp design development
Tips on how to present in SketchUp
This site is a great getting started site for Interior Designers using SketchUp for Interior Design

Free Intro to SketchUp (for Interior Designers)

In this beginners SketchUp course I will cover the basics, from downloading SketchUp to using commands like line, rectangle, group and offset. Even if you have played with the tools a bit, but still consider yourself a beginner, this course will be very helpful. I cover common frustrations, and some tips and tricks that will help you in your learning experience.

Floor Plan Design in SketchUp

Drawing a floor plan is essential to your design practice. SketchUp makes it fast and easy! In this course you will learn how to draw a floor plan in SketchUp while keeping your drawing organized for easier editing. 2D furniture and appliance symbols are provided and will be instrumental in all of your design projects.
SketchUp Skill Builder: Control shading for interior spaces

If you use SketchUp to model interior spaces, you adjust the shadow settings for every Scene you create, right? Ok, great… wait, you don't do that? No worries; many people overlook this easy adjustment in SketchUp!
There are also a number of books and tutorials available to help you get started and also refine your designs within SketchUp
A practical guide to SketchUp addressing the specific needs of interior designers
Already a common and popular tool for architects and landscape architects, SketchUp is increasingly finding a place in the professional workflow of interior designers. SketchUp for Interior Design is a practical introduction for interior designers and students who want to learn to use the software for their unique needs. The book covers the basics of creating 3D models before showing how to create space plans, model furniture, cabinetry, and accessories, experiment with colors and materials, incorporate manufacturers' models into project plans, and create final presentations and animated walk-throughs for clients. Each chapter includes clear explanations and helpful illustrations to make this an ideal introduction to the topic.
Designing Kitchens with SketchUp

SketchUp 2013 for Interior Designers

Modeling with SketchUp for Interior Design
---
Before / After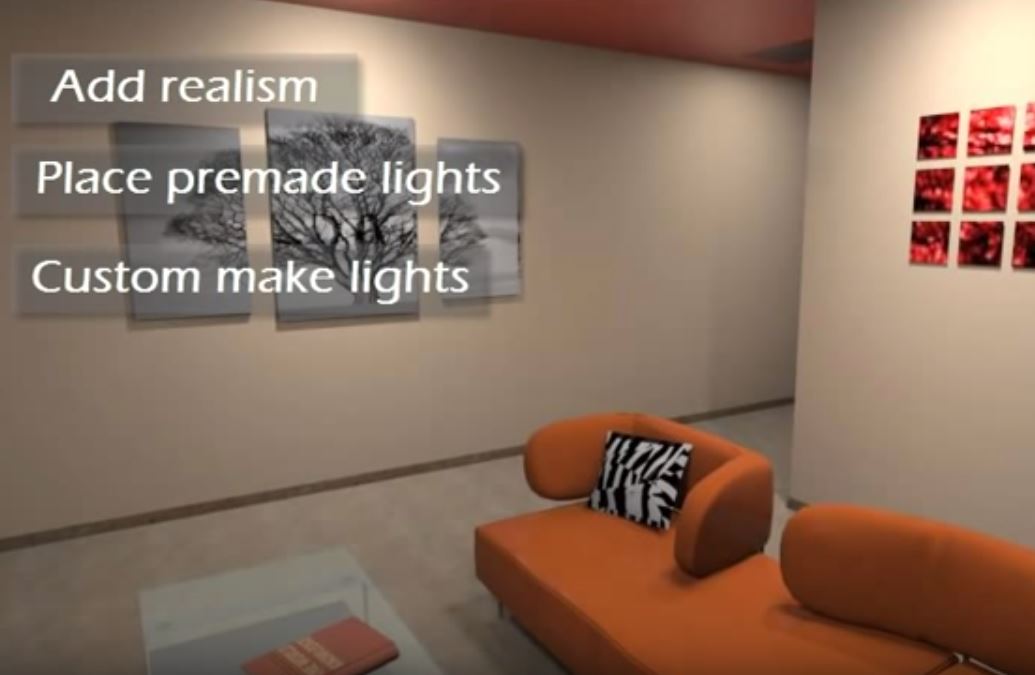 ---
Take a quick look at the 3 minute video on how easy our rendering software is to use and how realistic the results are, even without changing any settings.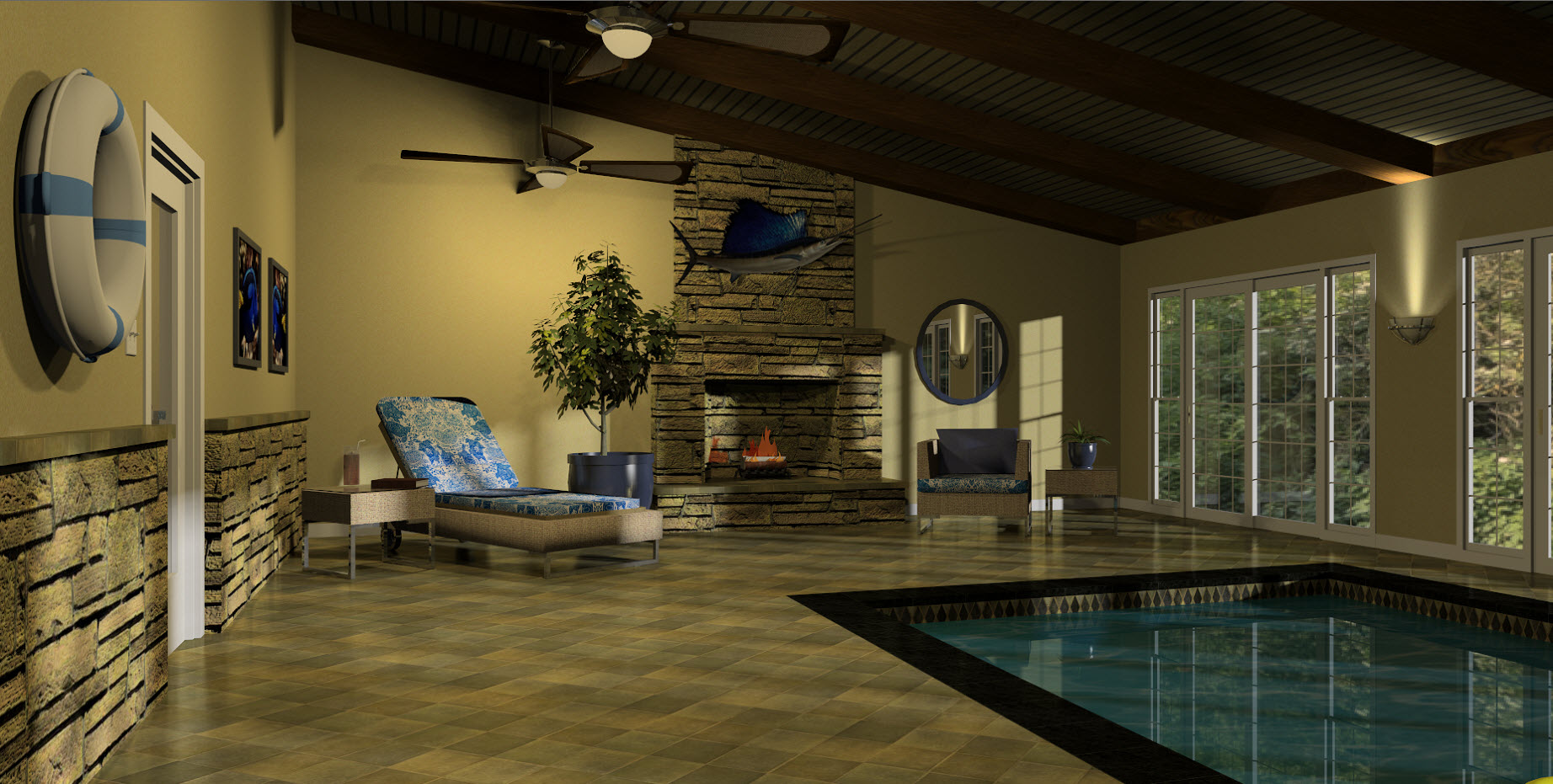 Notice the reflection on the pool and the mirror, the shadows and lighting from the window and the foliage through the windows.  All of these types of details are generated from our rendering solutions to bring designs to life.
---
Try the IRender nXt – Interactive, Intuitive 3D rendering for SketchUp – and create believable interior design presentations